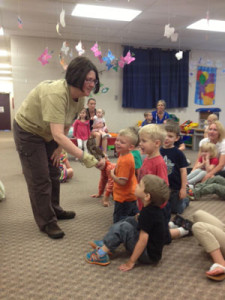 The Walden's Puddle education department provides off-site education programs for all age groups, featuring our Animal Ambassadors.
To request a program for your organization, please review our program calendar for availability. Once you find a date that works,  please submit your information here.
Our Education Director, Carolyn, can be reached by phone at (615) 299-9938 ext 30 or email at waldenspuddleeducation@gmail.com.
Frequently Asked Questions
How much do programs cost?
Programs are free, but we ask for a monetary donation or donations from our wishlist in return. Scout groups usually have each person bring an item to the program.
Where do you offer programs?
We typically travel in a 50 mile radius from Joelton, Tennessee, but there are special exceptions.
When do you offer programs?
Walden's Puddles education programs are extremely popular and book far in advance. Our annual schedule is as follows:
April 1 – May 31: Programs available on Wednesdays and Saturdays
June 1 – July 31: Programs available Monday through Saturday.
August 1 – October 31: Programs available on Wednesdays and Saturdays
November 1 – March 31: Winter break, no programs available.
View our calendar to see what dates are available for programs.
How long are your programs?
Our programs are tailored to your group. Typical programs are as short as 30 minutes or as long as 75.
What species of animals do you bring to the programs?
The animals are selected based on the audience. You can see profiles of our Animal Ambassadors here.