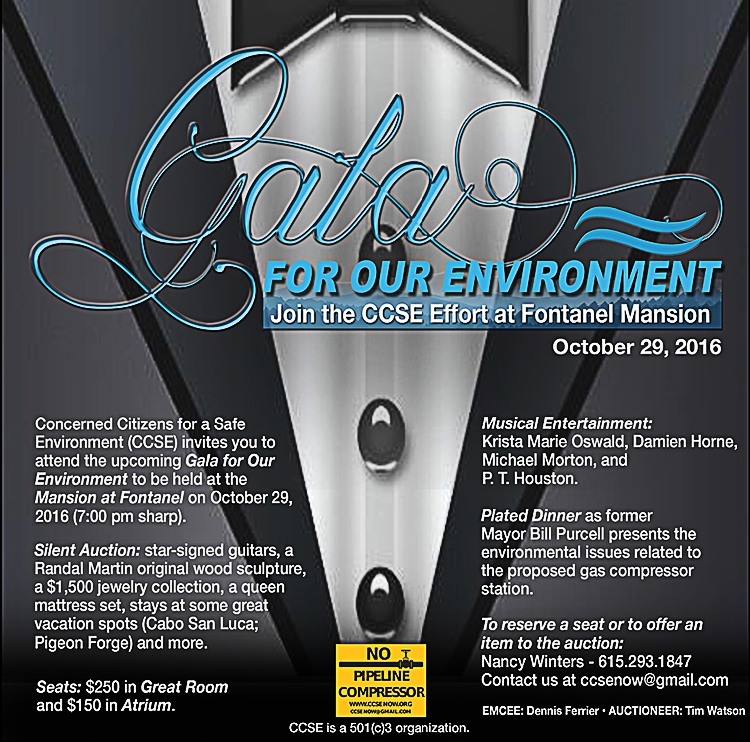 Please support this event to help pay the legal fees to fight against the Gas Pipe-line compressor station being built near Walden's Puddle! We are in Davidson county. This volatile compressor is a huge Concern for all of us in the Nashville area! if you can not attend a donation would help the cause greatly.
—–Walden's Puddle Board
Concerned Citizens for a Safe Environment (CCSE) invites you to attend the upcoming Gala for Our Environment to be held at the Mansion at Fontanel on October 29, 2016 (7:00 pm sharp).
Silent Auction: star-signed T-shirts, a Randal Martin original wood sculpture, a $1,500 jewelry collection, a queen mattress set, stays at some great vacation spots (Cabo San Lucas, Pigeon Forge) and more.
Seats: $250 in Great Room and $150 in Atrium.
Musical Entertainment: Krista Marie Oswald, Damien Horne, Michael Morton, and P. T. Houston.
Plated Dinner as former Mayor Bill Purcell presents the environmental issues related to the proposed gas compressor station.
To reserve a seat or to offer an item to the auction, call Nancy Winters (615.293.1847) or email us at ccsenow@gmail.com
EMCEE: Dennis Ferrier – AUCTIONEER: Tim Watson