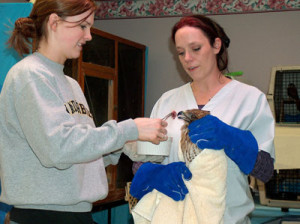 All interns of Walden's Puddle work under the direction of staff performing various activities to further their education, as well as the mission of the organization.
Interns play a vital role in the lives of many animals that are returned to the wild. Walden's Puddle embraces a hands-off rearing and caring policy. This means there is a minimal amount of contact with the animals in our care. Interns do not cuddle, play with, or tame animals, as this reduces the chance of successful rehabilitation. Interns do not work with some wildlife due to the risk of disease transmission. Interns receive one-on-one, hands on training in the areas of cage cleaning, diet preparation, hand-feeding infants and injured adult animals, administering medications, as well as species identification and proper animal husbandry.
Walden's Puddle offers both part-time and full-time internship programs. Please see program description

(Full-time / Part-time)

for details.

To apply for an internship, please send cover letter, resume and 3 written references to ElisaFosco@WaldensPuddle.org