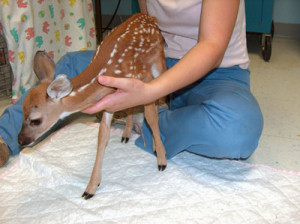 Although Walden's Puddle has a small staff, thanks to the extra helping hands of our dedicated and compassionate volunteers, we try never to turn away a wild animal in need. In 2012, our loyal volunteers gave over 9,000 hours to help ensure that we achieved our mission. They gave the equivalent of four full-time staff members, plus some. Volunteer time in Tennessee was valued at $19.42 an hour in 2012, thus making a total of $174,780.00 contributed by our Volunteers last year. Volunteers are needed seven days a week, 365 days a year. Our volunteers come from all walks of life with one thing in common: concern for our wild neighbors.
As a Walden's Puddle volunteer, you will learn something new with each visit. You too can experience saving the life of an injured or orphaned animal and returning it to where it belongs; the wild.
At present, a small group of "core volunteers" each work one day per week at Walden's Puddle. A larger group of additional volunteers pitch in with varied schedules. We are ALWAYS in need of additional volunteers who are interested in learning and having a "wild" and extremely rewarding time!
Walden's Puddle is growing, with around 3,500 animals admitted and cared for annually. The animals we admit are wild animals. They are not tame and may bite or scratch without provocation. Although it is rare, some animals brought for admission may be infected with diseases communicable to other animals, including domestic pets and diseases communicable to humans. All of these factors are to be considered when working with wildlife.
Volunteers provide many necessary services including assistance with animal care, administration and building maintenance. Volunteering at Walden's Puddle is fun and a lot of hard work, but work that is rewarding! Come share your knowledge and skills and make new friends; furry, feathered, scaled and otherwise.
Basic requirements for volunteers:
You must be at least sixteen (16) years of age
Animal care volunteers are asked to work a minimum of one 4-hour shift per week
Basic duties of volunteers (name your specialty):
Animal Care (direct): Cleaning cages, feeding, medicating, capturing, releasing
Animal Care (supportive): Washing dishes and bedding, preparing diets
Administrative: Answering calls, filing, mass mailings, running errands, sending thank-you notes
Education: Assisting with school and public programs and information booths
Events: Setting up and tearing down tables, procuring donations, decorating, selling tickets, manning booths, grant writing, fundraising
Wildlife Transporter: capture/pick up animals from locations around middle Tennessee or specific areas and transport them to Walden's Puddle or veterinarian
Other: Housekeeping, grounds maintenance, building repairs, cage construction and more
If you are interested in learning more about volunteering, please contact our Animal-Care Director at (615) 299-9938 or email volunteercoordinator@waldenspuddle.org.
To apply to be a volunteer, download and complete the application.
Mail To:
Walden's Puddle Wildlife Rehabilitation and Education Center
ATTN: Lisa Dammert
P.O. Box 641
Joelton, TN 37080