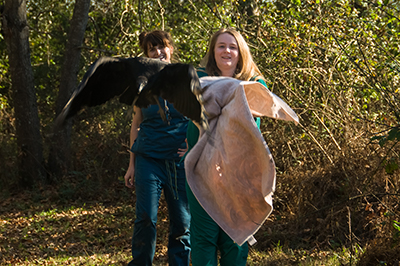 Thank you for your interest in volunteering at Walden's Puddle! By volunteering with us, you have a chance to make a difference in the life of an animal, but also helping the environment. Our goal is to return orphaned, ill or injured wildlife back to their natural habitat, and we couldn't do that without our compassionate, dedicated and hard-working long-term volunteers.
Most volunteer opportunities at Walden's Puddle, that are described in more detail below, require hard work, patience, acceptance that you will get dirty, and the opportunity to work with wildlife you may have never seen in the wild or knew existed. Some of the more interesting animals that have come through our doors has been an albino raccoon, bald eagles, flying squirrels, different species of owls, species displaced from hurricane areas, etc. If you don't want to work with the animals directly, there are still much needed and important volunteer opportunities listed below, which still do so much to help the wildlife in our care.
We are ALWAYS in need of volunteers who are dedicated and are passionate about helping wildlife.
With the rapid growth and development of Nashville and its encroachment on outlying areas, Walden's Puddle has seen the need for our services grow rapidly as well. In 2010 we admitted around 1500 animals and that number has risen every year. In 2016 we admitted nearly 3700 animals!
Our greatest need is during our hectic Baby Season, which runs from about March until September, but we still care for wildlife year-round. Volunteering at Walden's Puddle is fun and a lot of hard work, but is rewarding!
Here is a list of exciting volunteer opportunities at Walden's Puddle:
Pay $10.00 Application Fee (*Required)